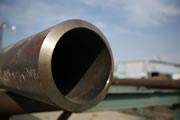 North Steel is proud to offer a wide variety of convenient, valuable pipe-related services to our clients.
Many of these services are value-added based on the nature of your order.

Shot Blasting for Steel Pipe Coatings
Normally shot blasting is required prior to galvanizing, painting, or applying any type of coating to the pipe. Shot blasting will remove the thin rust preventive coat from the pipe that was applied at the time of manufacture. We blast pipe from 1/8" thru 24" (Inquire for larger diameters)
Precision Pipe Cutting
We offer precision cutting on lengths of pipe ranging from 2 inches to 60 feet, and diameters from 2" thru 48". The type of cutting used depends on both the size of the pipe and the required precision. The tolerance ranges from 1/8" thru 48".
Cut and Roll Grooving for Standard and Line Pipe
North steel provides both cut grooving and roll grooving. Cut and roll grooving can be done in any style according to industry standards. Cut grooving can be applied to any length of pipe ranging from ½" to 20" in diameter with a minimum length of 2 ½". Roll grooving can be applied to any length of pipe ranging from 2" to 24" in diameter with a minimum length of 6″.
Pipe Beveling
Beveling is the process in which we form an angle between the edge of a pipe and a plane perpendicular to the surface to a certain degree, most commonly used to prepare the ends of pipes for welding. Beveling can also be used for deburring the cut tends for safety and aesthetic reasons. We can apply any type of bevel to any degree required. Beveling can be applied to the face of any size or diameter of a pipe.
Pipe Threading
Threaded pipes can provide an effective seal for pipes transporting liquids, gases, steam, and hydraulic fluid. We thread any length of pipe in diameters ranging from 1/8" to 20". Tapers available are NPT*, NPS*, 3/16" Peerless, and 8 round taper. (See fabrication services page for larger diameters).
ANSI/ASME standard B1.20.1 covers threads of 60-degree form with flat crests and roots in sizes from 1/16 inch to 24 inch Nominal Pipe Size. The taper rate for all NPT threads is 1/16 (3/4 inch per foot) measured by the change of diameter (of the pipe thread) over distance. The taper divided by a center line yields an angle 1° 47′ 24″ or 1.7899° as measured from the center axis.
Steel Pipe Coatings
Noth steel can provide a variety of protective coating and lining services. Some of the most common coating & lining services are FBE (Fusion Bond Epoxy), Synergy Wrap, Scotch Coating (Fletcher Coating), Spiral Wrap and Galvanizing. Common lining types are FBE (Fusion Bond Epoxy) & Cement lining. These coatings are widely used to protect the steel pipe used in pipeline construction, reinforcement steel, and on a wide variety of piping connections. This protective layer of coating helps prevent corrosion, which can lead to leaks, service interruptions, and even explosions of the steel wall. The pipe size range for these services are normally 1/8" OD and up. Traditionally, this service is order specific. Please contact your local Kelly Pipe branch for further assistance.
Custom Pipe Fabrication
North steel can provide a wide range of fabrication services. Please contact us for all cutting, beveling, grooving, threading, and shot blasting over the diameter limits mentioned on the other pages.
North Steel also fabricates the following type of items: Custom Steel Fabricated Products for Water Works, Pump Station and Pipeline Contractors, Water Well Drillers, Oil and Gas Operators, Utility Companies, Architects, and Landscape Designers – Welding – Cutting – Cement Coating & Lining.